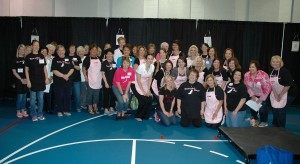 2016 Purchase Area

2017 Purchase Area
Thank you Volunteers    
Find out about Cinderella's Closet Volunteer Opportunities for MARCH 17, 2018 Event Held at Immanuel Baptist Church
To be a Fairy Godmother to our Princesses or volunteer in any way during our Give-Away Weekend on MARCH 17, 2018 you must register and provide a background check. Registration will begin  February 10, 2018.  Go to the Volunteer Opportunities page to sign up.  

Volunteer Requirements
We require that all of our volunteers on the Give-Away Event Day be females 20 years or older. Some of the girls that visit us are in foster care or shelters and privacy is a requirement, we are not allowed to even know their last name. Others that visit us, do not want their peers to know their financial situation or would feel very uncomfortable selecting a dress with another teenager. We find it best to have adult women, as not to embarrass anyone who visits us. Also, each volunteer will be required to have a background check. We will run the checks. If you would like to help us dedicate more of our limited funds to supporting our ministry, please consider reimbursing the $5.00 fee for your volunteer background check the day of the event. We are grateful for the support of our volunteers.
Following are some of the areas for which we need Fairy Godmothers:
Questions & Welcome Station
We have found it is helpful to have a desk set-up to only answer questions and to welcome your princesses. If there is not a separate station, the check-in desk is pretty crowded.
Check-in
This station will handle the registration and check-in of all of princesses. It will also be the station where Fairy Godmothers are paired with their princess.
Check-out
At our Cinderella's Closet we like to wrap all of their accessories in pink tissue paper and steam their dress before they leave. We do not steam the dresses prior to the give-away event for two reasons:
(1) The dress may not be chosen this year
(2) Steaming the dress on the spot is a special act of service to our princesses. It is
an immediate way to show that we are caring for them.
Personal Shopper
This job entails a variety of responsibilities that will be rotated during your shift. These jobs include: being a personal shopper to a Cinderella, sorting & hanging the dresses, and organizing the accessories.
Jewelry and Shoe Department
You will be responsible for helping our Cinderella's choose the perfect earrings, necklaces, and bracelets and a special pair of shoes.
Runners
Runners are very important to a successful event. For example, dresses that have been altered have to be taken to the steam room.
Food Tables
Throughout the event, food will be provided to the princesses and their guests. Several will be needed to make certain workers have food throughout the day as well.
Alterations
This job does not require an expertise in alterations, most of the projects are basic hems, taking up straps, and minor repairs. You need to be able to bring your own sewing machine.
Prayer Chapel/Note Cards
Many volunteers will be needed throughout the day to pray for each princess that enters our doors. Each princess will receive a written note telling her how very special she is, and expressing God's love for her.
Set Up – All hands on deck the week of the event.
Picture from 2015 Northern KY